It's Homecoming tonight, after all.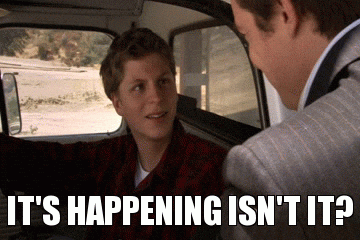 After the quick Monday turnaround, The Mighty, yet fewer, Trohahns lace up the cleats again for tonight's Homecoming game against Nooksack. The question is, should we be wearing spikes?
Game one against the Pioneers was much more a track meet, so much so that I expected someone to come over the PA telling me to look for the green flash* at sunset. Nooksack barely stopped for the hurdles in their 47-34 home win Sept. 30. Casey Bauman had a great night then, and has continued the torrid pace since. Last week against Baker, he was 35 of 46 for 435 yards and 3 TDs. Apparently Colton Kautz left the Baker game early injury (4 carries for 2 yards) only to have Tre Silva step for 100 yards of offense and a TD in relief.
Meanwhilst in Laurel, there doesn't seem to be enough backups as injuries have laid low oh so many Trojans.
As an interesting aside to this season, NWC 1A has been dominated by offense. In only one game so far between the four NWC 1A teams has a team been held to under 28 points (Baker 51, LC 7). Meridian scored 28 against Baker, and the next lowest offensive output was LC's 30 points against Meridian.
The Herald previews tonight game thusly:
Nooksack Valley at Meridian

Time: 7 p.m.

Site: Meridian High School

Pioneers (4-3, 2-2 1A NWC) update: Despite 435 passing yards from Casey Bauman, Nooksack Valley couldn't stop Mount Baker's power run game enough in a 57-36 loss Monday, Oct. 17. Whatcom County passing leader Bauman threw for a season-high 435 yards and four touchdowns and added two rushing TDs. Michael O'Bryan led three Pioneer receivers who reached triple digits in the game with 142 yards along with Kyle Veldman (113 yards) and Jeremy Dykes (104 yards, 2 TDs). A win would clinch the Pioneers' first district playoff appearance since 2011.

Trojans (3-4, 2-2) update: Tony Schleimer's 4-yard touchdown run put Meridian ahead and Simon Burkett returned an interception for the clinching score in a 33-28 win over Lynden Christian on Monday, Oct. 17. Burkett rushed for 159 yards and a TD and passed for 157 yards and a TD. Schleimer and Cole Roberts each had 40-yard rushing performances and scored a TD, while the defense limited LC to 18 rushing yards on 24 attempts.

Key to the game: Bauman threw for 282 yards and five TDs in a 47-34 win over Meridian in the team's first meeting Sept. 30. After allowing 355 passing yards to LC last week, the Trojans have to find a way to slow the Pioneers' passing attack in a game that could decide which team advances to the playoffs.

Player to watch: Nooksack Valley's Colton Kautz left Monday's game with a foot injury. Tre Silva came in and showed good ability to get to the edge, rushing for 42 yards on seven carries and adding 55 yards and a TD receiving.

Herald prediction: Nooksack Valley 27-24
Assuming no acts of God or force majeure, kickoff is 7PM in Lovely Downtown Laurel. Good luck, men.
*Gratuitous old-timer reference